Deal Analysis – Itoshima Beach Condo
In this article, we will review and analyse a sample deal facilitated on behalf of one of our clients, in Itoshima city. A beach-side community, located approximately 30 minutes by train to the West of Fukuoka city, the metropolitan centre of the Kyushu landmass and Western Japan's unofficial capital.
Although it covers approximately 212 square kilometres of total area, Itoshima's population is tiny – less than 100,000 people – and enjoys a reputation of a peaceful, holiday-centric area and retirement destination.
Dotted throughout with beach-side restaurants, galleries and gems such as Futamigaura Bay, where the sun sets over 2 rocky outcrops known as Meoto Iwa – "the Married Couple Rocks" – or the "singing" sands of Anego-no-hama Beach, southwest along the coast.
To the east, archaeological finds are on display at the Itokoku History Museum, and in the southern mountains, Shiraito Falls is surrounded by maple trees, while magical forested mountain hiking trails snake upwards to the West, concealing magnificent country-side mossy shrines and graveyards in their midst.
In recent years, the area has been booming with holiday makers and second-home buyers, who have built and renovated some truly majestic properties, well into the millions of dollars per home – but there are still plenty of older homes, condominiums and land parcels for purchase at ridiculously lower prices, all throughout this area.
Case in point –
34 sqm Studio unit + 5.5 sqm Balcony
3.2 mil JPY (app. 30,000 USD) – Itoshima
Our client in this case, a successful entrepreneur from mid-land USA, has specifically targeted a holiday property for his family's personal use, which he aimed to try and lease out on a monthly basis throughout the rest of the year.
For this purpose, the property would of course need to be furnished, with appliances installed, and have some attraction for short term tenants/guests.
Pre-Purchase: Research & Due Diligence
After a few weeks of research, we came up with the following gem, located on the top floor of a 9-storey building from 1991, located on the main beach road, only 1 minute walking to the sand and 5 to the nearest train station & convenience store.
The property even came with some furniture, kindly donated by the seller, who used to live in the property himself. And just check out this view!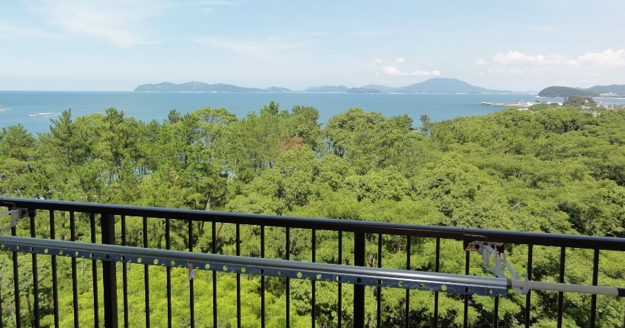 As the property is vacant, there are no tenant details to look into, so due diligence mainly consisted of reviewing the building's reserve funds pool status, and correlate this with its recent renovation history.
Said history revealed a well-maintained building, with the last large renovation performed 11 years ago. The reserve funds pool contains approximately 54 mil JPY – approximately 0.5 mil USD – which, while not a huge amount for a reinforced concrete block with about 100 condo units, was an acceptable risk factor for the buyer.
Should another large renovation be required in the next 5-6 years, the collected funds should suffice – so barring any emergencies, it's unlikely that building fees will go up in the near future.
Monthly maintenance and reserve fund contribution fees are approximately 11,000 JPY (100 USD), which also include usage of a small gym and exercise room, swimming pool and sauna – not a huge yearly amount considering the fact that an average 2-week hotel room stay would cost about the same for a couple – but definitely put pressure on us to try and make the property "work" for its upkeep.
Post-Purchases: Monthly Leasing
Having concluded settlement and collected the new title deed & ownership registration documentation from the legal affairs bureau, it was now time to try and lease the property out.
Long term leases were out of the question, as the owner requested the property be available for their own use if and when they choose to come for a holiday.
"Real" short term stays, such as AirBnb, which would mean advertising and leasing the property out on a daily or weekly basis, were also not an option, since the new legislation enacted in June 2018 requires more stringent compliance, licensing and reporting, and has also placed the final right of refusal for this practice in the hands of co-owned buildings unit owners and their representatives in the owners' co-op and the building management companies appointed by those.
This left us with the option of monthly leasing, or "monthly mansion" arrangement, as it's known here in Japan – which means that, as long as the property is leased out for a minimum of one month per tenant, and with a standard tenancy lease in place, the practice does not fall under the "minpaku" (short-term stay) legislation, and is classified as a standard lease for all practical and legal purposes.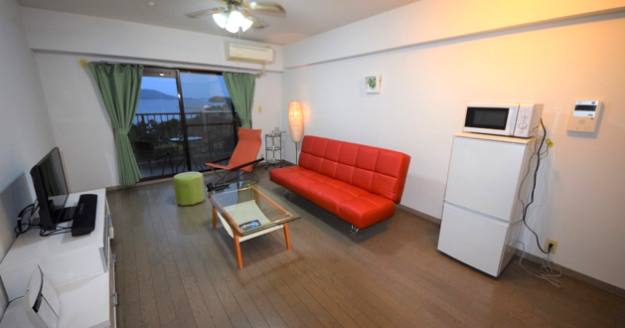 Building management and other owners/tenants in the building may not like the idea, but cannot prohibit it legally, and all it required was a bit more furniture, some additional electric appliances, bed linen, kitchen utensils, etc – which, all together, cost approximately 1,000 USD.
A bit of new wallpaper and some flooring section replacements gave the place a brand new look, and a monthly lease property manager was put in place for advertising and handling all check-ins, check-outs, cleaning, and financials: security deposit and rent collection in advance, provision of utilities (power/water/internet) and charging of guests for said utilities, as well as for the cleaning fee, all well ahead of their stay.
Summary
While we've initially assumed the property will only be occupied during the hot summer months, considering its' location, the past two years have been pleasantly surprising – potential guests/tenants have been ample, even during the winter and autumn months, during which the Japanese are notoriously beach-shy – and with the latest booking, which has been for a period of an entire consecutive year, from the Spring of 2019 to 2020, the property is actually yielding a spectacular 12-13% net pre-tax annually!
Several maintenance items, mainly related to minor plumbing issues, have put a small dent in this return, but the property still more than compensates for those repairs, and yielding double the amount it would have generated with a standard, long-term lease – while leaving the owner free to enjoy it whenever they come to Japan, as long as they make sure to "book" their own apartment with enough advance notice.
And, even in cases when the property IS booked, the income it generates then pays for most of the owners' hotel stay in any case, which they're more than happy to oblige with.